Where do CNAs work?  Pretty much everywhere healthcare is performed!  Certified Nursing Assistants can work in a wide variety of settings in healthcare.  Some of these you may be familiar with, but some may surprise you!  Read on for a brief description of many settings that CNAs can find employment!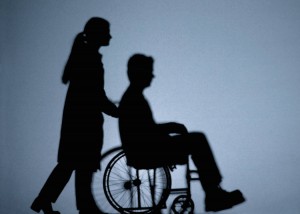 Hospitals:

  This is probably the first place people think of when they think of CNAs.  CNAs in this settings will perform personal care skills and make important observations that help plan the patient's care.  This is a fast-paced environment with a wide variety of patients and conditions.  Care in this environment requires a certain amount of versatility and the ability to adapt quickly to changes.

Nursing homes: 

yep, this one is well-known, too.  Many people disregard nursing assistant as a career because they don't want to work in a nursing home.  But there are so many employment options in healthcare that you may work an entire lifetime as a CNA and never once have to work in long-term care!  CNA in nursing homes will provide personal care skills on chronically ill patients that require constant supervision and nursing observations.  It is often physically demanding and emotionally challenging as patients that you become close to eventually decline and pass away.  However, it can also be emotionally rewarding knowing that you are filling a vital need for affection and belonging for patients with no visitors!

Assisted Living Facilities (ALF): 

You don't have to be certified to work in an ALF, many students find employment in these settings during training.  However, the patients in this environment require less care and supervision so basic skills are all that is necessary.  These patients are usually somewhat independent in many tasks and need only minor assistance in personal care skills, cleaning or meal preparation.  This can be a rewarding job if you like to talk to patients and develop long-term relationships!

Adult Day Care: 

This is a cross between nursing home care and assisted living facilities.  Patients will require varying levels of care but do not reside in the facility.  This setting generally provides short-term daily care for physically or mentally impaired adults.  This may be a challenging setting as patients will be experiencing a change in routine, which may not be well tolerated, until a new routine is established.  It is best if there is a limited change in caregivers, so long-term employment is encouraged.

Doctor's office:

  In many states, you do not have to have a state certification to work in a doctor's office.  In fact, doctors often like to hire CNAs because they have basic nursing skills such as vital signs and observation skills that can be valuable in this setting!  Add phlebotomy and EKG skills and you may just be exactly what that doctor is looking for!  This option may be just right for you if you like to work daytime hours, have nights and weekends off and work closely with a physician! 

Walk-In Clinics: 

Some urgent care centers and clinics employ CNAs to take vital signs and perform basic patient care skills.  These settings may require additional certifications in EKG and Phlebotomy.  The tasks will be similar to those performed in a doctor's office, but may also include assisting with a wide variety of emergency procedures.  Remaining calm and the ability to multi-task is essential!

Outpatient surgery centers:

  These facilities offer same-day surgical procedures, where the patient is discharged home (or transferred to the hospital or a rehab if they are not stable enough to return home) at the end of the day.  CNAs may be hired in this setting to assist nurses during the preparation and recovery of patients, assisting with personal care skills and observation of patients.

Home Care: 

CNAs are often hired to perform personal care for patients in a home care setting.  This may entail traveling to several patient homes during the day, or staying with a single patient for an entire shift.  Live-in care is another option in home care.  Experience is often preferred because of the limited supervision and the lack of assistance, but offers a slower pace and allows for one-on-one interaction, which many caregivers find very rewarding!

Pediatric Private Duty:

  There are many seriously physically or emotionally impaired children that live at home but their families need assistance providing daily care.  CNAs may be utilized to provide physical care, socialization skills and transportation to therapy services.  In some cases, they may accompany the child to school.

School Health:

  Some counties employ CNAs to provide school health services to students of varying ages in the school setting.  Some of these employees will work in the clinic setting, providing first aid and notifying parents of health emergencies.  Some will work specifically with a seriously impaired students, performing personal care skills.  This employee is often called a "paraprofessional".

Jails: 

Yep, prisoners get sick, too!  Most jails and prisons have a small acute care clinic as well as a long-term care ward where seriously ill or terminal patients remain during their illness.  Both of these areas will require CNAs for personal care and to assist with nursing observations.

Dialysis PCT: 

CNAs may be eligible to work in dialysis clinics, where they will receive additional training in observation and reporting and providing care to patients receiving dialysis.  These employees will go through an extensive training program and will need to become certified as a dialysis technician within 18 months of employment.  This is a high-tech, fast paced environment and requires attention to detail and excellent interpersonal skills.

Mental Health:

  Many psychiatric facilities hire CNAs to provide patient care skills to seriously mentally ill patients.  These individuals can also receive training in psychiatric crisis management, substance abuse treatment and dementia stabilization.  This environment requires a calm approach, emotional maturity and the ability to work well with a team.

Hospice: 

Patients that are expected to live 6 months or less may receive Hospice care.  This care may be provided in any setting (such as the patient's home, assisted living facilities, nursing homes, care centers, etc.) by an entire Hospice team, including CNAs.  Additional training is provided focusing on the goals of Hospice care and communication techniques.  Compassion is essential when working in Hospice care!
As you can see, there are many places that CNAs are eligible to work, aside from the traditional roles in hospitals and nursing homes.  Pay rates will vary, depending on the setting, level of difficulty, shift worked, additional training required and level of experience.  Sometimes it pays to consider a higher level of difficulty or agree to additional training for a higher rate of pay!
Nursing is an exciting and widely varied field with tons of opportunities for nurses and nursing assistants.  It is important to understand that nursing assistants must work under the supervision of a nurse (this is a federal and state law), so anywhere you find nurses, you will probably find CNAs!  CNAs cannot work on their own, but that is the subject of another post!
(1717)