C.P.R. and Y.O.U.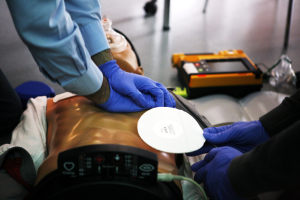 Do you have to have your CPR certification to take the state CNA test? No. CPR (also known as Cardiopulmonary Resuscitation) certification is not required for the CNA test – but there may be questions on the written exam that deal with emergency care. Getting your certification in CPR and First Aid can provide the knowledge that makes these questions easier to answer.
However, most employers DO require CPR and First Aid certification before you can begin work.  In most healthcare facilities, everyone who works with patients must be familiar with emergency procedures. That's because there is no way to know when a patient is going to have a medical emergency – and there are not always nurses hanging around when that happens. If there is a nurse in the area, the nurse will handle the emergency. But if not, handling the emergency will be up to you until a nurse or other medical professional arrives.
Here's a story to illustrate why this is important: Mrs. Hopkins is in the hospital and scheduled to be discharged tomorrow. She was being monitored for blood pressure issues but has been well-controlled on new medication. Your nurse assigns you to perform some tasks while she goes to lunch. When you enter the room to take Mrs. Hopkins' vital signs, you notice that her husband (a visitor) is pale and sweating profusely. He groans loudly, grasps his chest and loses consciousness. Your nurse is not around and you don't know what to do. You leave the room to go find another nurse and by the time you return, the patient is unable to be revived because CPR was not started immediately. This person died – in a hospital and surrounded by medical professionals – because you did not take appropriate action. How sad! Because of this, everyone who works with patients should have basic CPR and First Aid certification to master the skills that allow them to act quickly in an emergency until someone more qualified can be summoned to help.
But where can you get CPR and First Aid training? First of all, most facilities do not accept online-only CPR certifications. You need to have your skills evaluated by a professional to make sure you have mastered the proper technique. Most facilities require certification through a reputable agency such as the American Heart Association (AHA).
You can search for CPR in your area on a search engine like Google. You can ask friends and family members if they know of any classes. You can contact your local hospital or community college for classes. You can search the American Heart Association's class finder feature for classes near you.
If you are in Hernando county (where AllCNAs is located), we recommend Julie Stack from CPR Resq as a reputable CPR instructor. She makes learning fun! Check out her website for class schedule and prices!
Whoever you choose as a CPR and First Aid instructor, make sure all your questions are answered before you leave and that you are comfortable with your skill level. The worst time to figure out that you had a crappy CPR instructor is when there is a dead body at your feet and you need to know what to do about it!
(131)